Animated series that are not boring for adults to watch
Touching on topics about TV shows and films, I repeatedly thought about a large selection of worthy cartoons that are not boring for adults to watch. In the age of endless TV sagas and not the smartest films, many are moving to the side of ironic cartoons. This kind of top will not include series that have already had many seasons and have already become cult (The Simpsons, South Park, Futurama).
F Is for Family
This cartoon nostalgia for the 70s, from the master of subtle satire Bill Burr, will chain you to the screen for 4 seasons almost for sure. The plot is quite ordinary: the focus is on an ordinary American family of average income (or even a little lower). Excellent humor, bright animation, characters in which you fall in love from the first seconds and incomparable humor.
Human Kind Of
Series from Facebook Watch "Human Type" sometimes sentimental and teenage, and sometimes beats with black humor and complex ufological metaphors. The plot is built around a teenager - Judy, who finds out that her father is an alien, so physical metamorphoses are added to youthful problems. The series currently has only one season.
Final Space (Final Space)
If you enjoy watching series Futurama и Rick and Morty, then extreme space you will like it too. There is good humor, good characters and a lot of space. Main character - Gary, a silly and a little self-confident guy. Jokes from him shoot one after another, just make sure you do it. There are already 3 seasons to date.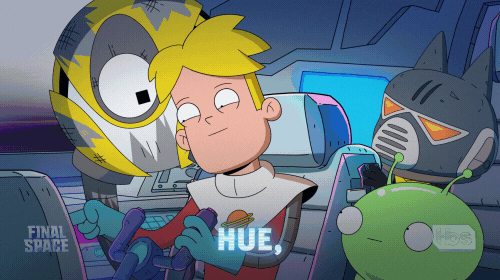 Love, death and robots (Love, Death & Robots)
This series has already been discussed in detail here. here. We can recommend him endlessly. You are waiting for a unique 18 episodes related to the theme of love, death or robots. And sometimes just a little bit.
On the other side of the fence
Gothic adventure of two brothers through a dark forest. Each scene is a metaphor, and children's dialogue touches adult fibers. It is not entirely clear who this cartoon was created for: for children or adults.
Last man (Lastman)
The series from the French studio in 2016 with a rating of 18+. If you have reviewed everything in the world and are looking for a breath of fresh ideas, then you are in luck. Great humor, thoughtful plot, interesting characters. 25 episodes of 11 minutes fit into 1 season.
Gravity Falls (Gravity Falls)
Everyone has probably heard about this Disney cartoon. It makes no sense to describe it, but if suddenly, dear reader, you have not watched this masterpiece, then do not waste your time in vain!
Amphibian (Amphibia)
For those who were delighted with the animated series Gravity Falls, a big find - Amphibian. Screenwriter Matt Braly and Disney released another masterpiece. Thoughtful universe with cute frogs and toads. A worthy main character and such familiar panache. The first season has 40 episodes and they are already available. Happy viewing! From the list of animated series that are not boring for adults to watch, this cartoon will also be interesting for children.
The Owl House
In 2020, another series was released, very reminiscent of the concept of Gravity Falls, namely - Owl House (sometimes seen as owl house). The main character, Luz, accidentally moves to a mystical world, where she becomes the apprentice of the witch Idu. And then adventures, attempts to return to your world and a lot of good humor. Suitable for both children and adults.
Rick and Morty
The main characters are based on the characters of the legendary film trilogy "Back to the Future". Only here there will be no time travel, but there will be endless jumps to alternate realities and other universes. The animated series was created with such a deep dive into the script that it managed to become a cult.
Solar Opposites
From the authors and creators of "Rick and Morty" came out another animated series - solar opposites. I think you can easily draw parallels between the main characters of these two cartoons, but you will also see many differences.
The story will develop around 4 aliens who are stuck on planet Earth.
Total Drama Island
The next in the selection of animated series that are not boring to watch for adults is Island of desperate heroes. Despite 5 seasons, I recommend watching only the first 3, the rest lose their charm and humor. The concept of this show is simple - to show a typical reality show through animation. There is practically no black humor or some kind of trash, rather it is a comedy on the theme of survival and competition.
Regular Show
The main characters of this show are Mordecai (hefty jay) and Rigby (common raccoon). They have a job, but they don't want to do it. They don't like their boss, by the way he's a chewing gum machine.
Gary and His Demons
Before us is an interesting interpretation of films and TV shows, where the hero fights the forces of evil and hell. Main character - Gary, a very aged fighter from the secret department, he really wants to stop the battle with the demons and go on a well-deserved vacation, but alas, there is no replacement for him.
Mr. Pickles
If the previous cartoons will be of interest to almost any viewer, then Mr. Pickles - it's not for everyone. Don't like violence? Are you religious? Is heavy music annoying? Better not to watch.
Brickleberry
Another harsh series with an abundance of (extremely!) black humor and scenes that can offend the feelings of everyone and everyone - Brickleberry. The main characters are rangers in the national park. They are as unprofessional as possible, stupid and messy, but it can be fun to watch them.
Jail (Superjail!)
There are several acid cartoons in this collection, but "Super Prison" gives them all a head start. Bloodshed, violence and trash that does not stop for a second.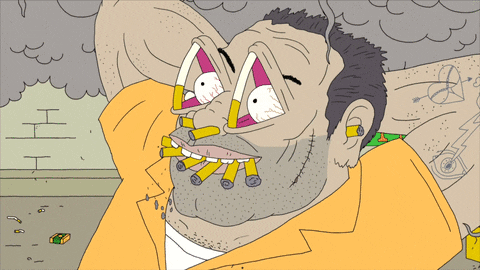 Metalocalypse (Metalocalypse)
The first season is about metalworkers-satanists Dethklok It was released in 2006 and was very popular. The animated series "Metalocalypse" quickly grew its fan base and as a result, the show received 5 seasons, as well as high ratings. According to rumors, it was this cartoon that gave impetus to the channel "Adult Swim". There is no such plot here, rather a set of black stories.
The Venture Bros.
Another cartoon from the block "Adult Swim", which produces 50% of those same cartoons for an adult audience. The main characters are the Ventura brothers, so different, but still together. Here and black humor, and non-trivial situations.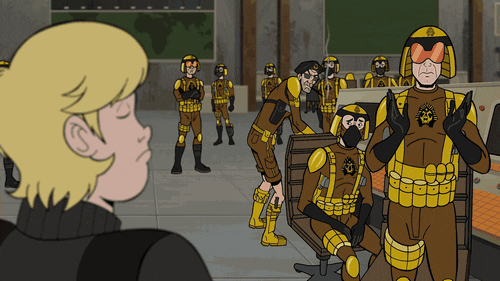 King of the Hill
The most proven theme of "adult" cartoons is the life of ordinary people. The simpler the main characters, the better it turns out, remember, for example, the Simpsons. King of the hill - a series-story about ordinary Texas residents from the outback.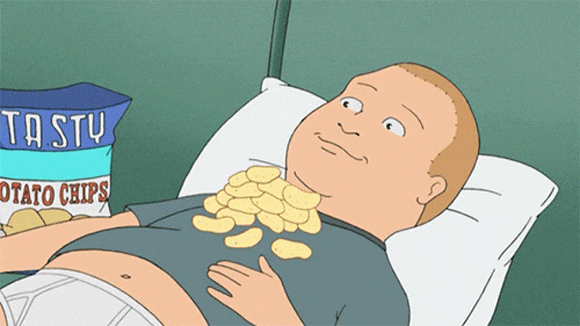 Dr. Katz, Professional Therapist
One of the oldest animated series in our selection. Dr. Katz - does not have high-quality animation, it looks cheap and even bad, but if your eyes can get used, then you will discover the sharp humor of this masterpiece.
Archer
If the life of Americans has already tired you and you want other heroes, then look the animated series archer. Watching a preoccupied spy is sometimes very exciting, deep topics are not raised here, but there are good jokes.
Ugly Americans
I don't even know how to describe what is happening in this two-season series. Here all the characters are crazy monsters from other planets that live in New York (as if it had always been like that). The main character is an ordinary guy who seems like a freak against their background.
BoJack Horseman
The horse drinks whiskey, rowdy and tries to regain his career as a film actor. The series is relatively fresh and is still being actively filmed, but there are already 5 seasons on the Internet.
Disenchantment
I want to finish the selection with a cartoon "Disappointment", it was released in August 2018, but something tells me that there will be a gun. The second season was released at the end of September 2019. Watch the trailer:
Love cartoons? Tell us about worthy cartoons on the topic that are not on the list.